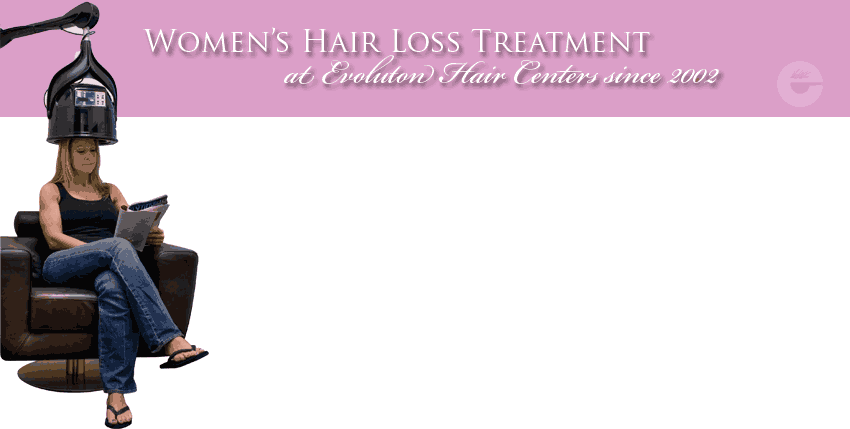 "I started my personalized program in November and by the end of January, there was a noticeable difference in the appearance and texture of my hair.  For the first time in 20 years, I was feeling hopeful that I might be rid of the self-consciousness that has plagued me." 

- Theresa Oster of Tempe, AZ                                
READ MORE...

Evolution Hair Loss Institute ' Women's Videos


Evolution Hair Loss Institute for Womens Hair Loss

4450 South Rural Rd

Suite C-222

480-222-4247

Servicing locally Arizona including  Phoenix, Tempe,Chandler, Mesa, Gilbert, Queen Creek, Ahwatukee Foothills, Tucson, North Phoenix, Scottsdale, North Scottsdale, Fountain Hills Glendale, Surprise,  Carefree, Cave Creek, Flagstaff and Sedona.

Womens hair is a representation of our underlying general heath. The condition womens hair can give us signs of underlying nutritional and hormonal conditions. In many cases inherited Female Pattern Hair Loss is the primary cause of a woman's hair loss condition, but not reason the rate of loss is so fast. for women to treat their hair loss successfully, a woman must first establish why your hair in a serious loss pattern.

Modern Allopathic medicine has no concrete solutions for womens hair loss. The reason for this, is that every woman is different. There is no magic pill that will fix the female condition. For women, their hair is their crowning glory. It is not socially acceptable for a woman to lose her hair like it is for a man. Womens hair loss can cause serious physiological trauma, depression, and some in reported cases, suicide.

At Evolution Hair Centers, we are so successful at treating women's hair loss because we look at the entire condition of our female clients. Many underlying conditions can exacerbate or even be the cause of hair loss in a female. Certain prescription drugs have been seen to seriously increase the rate of female hair loss by creating imbalance in the delicate internal microflora of a female's gastrointestinal systems. Drugs such as following can trigger hair loss with seemingly no explanation:

hormone replacement (with testosterone)

hormone replacement (without testosterone)

Womens conditions such as:

Hyper-thyroidism (too much hormone)

Hypo-thyroidism (too little hormone)

can aggravate a female's delicate internal balance and produce rapid shedding.

At Evolution Hair Centers for women, we understand these issues and the right treatment protocol every female client. In many situations our female clients have been to numerous medical specialists only to have their hair loss situation get worse.

At Evolution Hair Centers' clinics for women, we are dedicating to finding the true cause of your hair loss and treating the situation accordingly. We can produce success were many have failed. Please review this site in its entirety… And when you are ready to end the burden of womens hair loss, we are here to give you the right treatment for your situation.

Call Us Today (888) 527-4255

for your free consultation